About us
Hi everyone,
The founder of Debt Talk Ltd I constituted my company in 2005. Click here to view details.
When I realised people could access good quality free Debt Management.
What people also wanted was someone impartial to talk to about their financial problems who was able to look at their situation holistically, just like a therapist and could help them with Financial Education.
Someone who would not judge them, but would be happy to brainstorm To have a better relationship with their finances and help them reach their financial goals.
My Mission Statement
So I created the following mission statement: To offer as many people as possible education and support in basic personal finance to enable them to make informed decisions to improve their lives for the better.
And started my Financial Education company.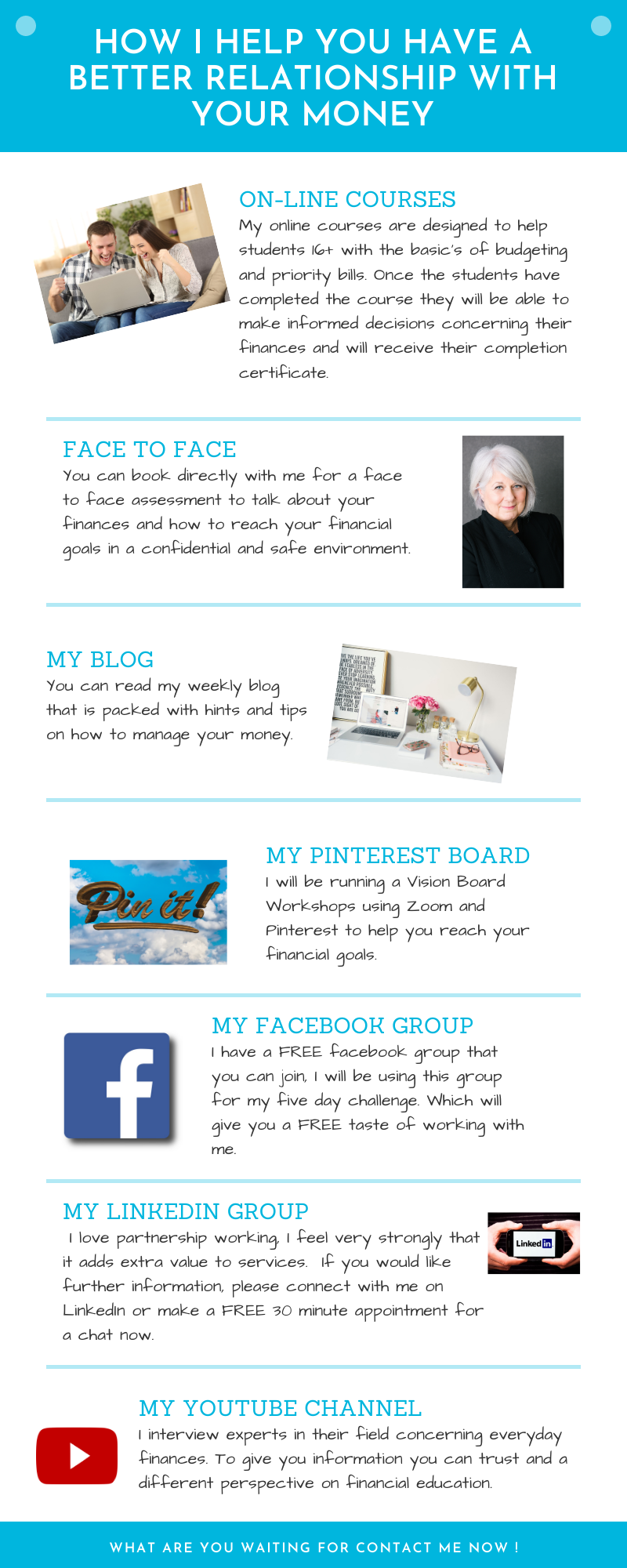 I designed two financial education courses for 16+-year-old students to help them navigate the finance world once they had either left school or started university.
My Online Course's help students whilst they study for their AS and A-Levels or begin University and become financially independent.
If you want a better relationship with your money, and be prepared for everyday finance, including budgeting and priority bills and the consequences of non-payment. My courses will help you.
The Online course
The courses are based on two fictional characters Daniel and Sarah.
Lessons include learning and applying percentages, multiplication, addition, subtraction—quizzes and Assessment page where students are requested to demonstrate knowledge of the subject, and it's application.
Once the student has completed the course, they will be able to download a 'Completion Certificate.
Face to Face
A FREE 30-minute assessment, where I brainstorm with my clients, to help them create their personalised journey to reaching their financial goals.
Social Media
I'm happy to work with partners so also have a Linkedin account so partners or clients can connect with me.
I have a Facebook Group and a Pinterest Board.
Work with me
Book a FREE 30-minute chat on this page if you would like to chat to me about how we can work together.
Sign up to my Newsletter for all the latest news and blog
Connect with me on LinkedIn
Join me on Facebook
Checkout my Pin's on Pinterest
Click onto my YouTube channel to see my latest video's